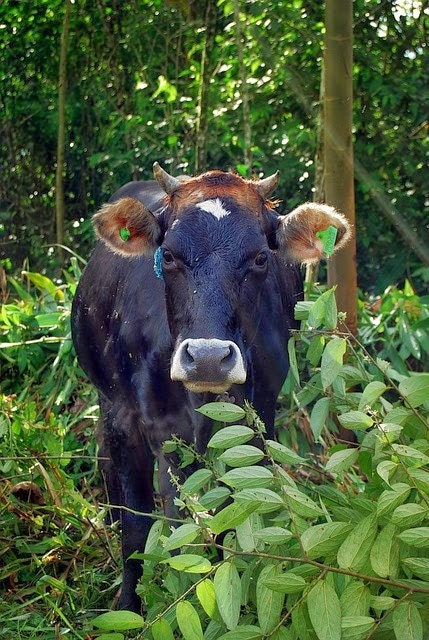 I have thoroughly enjoyed the past few months as my Sunday School teacher meticulously walked out class through the gospel of John.  I actually felt a little deflated as we arrived to chapter 21, realizing that our journey was concluding.  I have loved the stories, so much information, but yet I am left wanting to know more.
As I think back of the book of John, I realize that even though the words run the spectrum of the call of the apostles to  a blind man gaining sight to the resurrection of Jesus, everything ties together as a continuing unspoken challenge that Jesus was issuing to his disciples using unlikely characters, miracles and oddities - perhaps like this cow standing alone in a jungle.  After all, why was Mary Magdalene, a women of questionable character, the one to first bear witness to Jesus' empty tomb and resurrection?  Why choose a Samaritan woman living in sin to spread the gospel to a town? How were Peter and his fellow fisherman able to catch "153 great fish" without the nets breaking?  Five loaves and two fish feeding thousands?  What medical journal prescribes spit and clay to treat and/or cure blindness?  How many kings were choosing borrowed donkeys for their entrances?
Throughout his time on earth, time spent with his apostles, Jesus was consistently challenging the notion of role, capacity and function.  Mary Magdalene and the Samaritan woman -- neither of these were people who were "right" to have a role in the recorded ministry of Christ.  The loaves and fish should have barely fed a family of four.  Nets over-filled with fish break.  This is our understanding of the capacity of nets.  Jesus, however, invites us to change what we think we know.
Just as we do today, Jesus was dealing with a culture of people who felt there were right and wrong people for positions, there were limits to what things and people could do and there were proper ways to use the tools and resources that were available.  Jesus' challenge was to step outside of defined roles, capacity and function.  It is, after all, outside of those very limitations that Jesus' ministry took place.  Further, by continuing to peel away our current day prejudices or preconceived ideas, we are able to continue to walk in the expansiveness of how we are called to live.
How often have I responded that I am not the right person for something because I am not this or too much of that?  How often have I limited the capacity of what God wants to do based upon the fact that my internal math tells me the nets will break?  Is my vision for the tools and resources around me limited only to the functions that are familiar? 
It would certainly be more comfortable to leave the foregoing questions in the rhetorical category.  That space is not, however, where growth is found.....and oh, as much as it hurts, I do want to grow.  So this day I will take the challenge of setting aside all that I think I know.